How-to: Use the Free Sounds Library
Soundation Studio comes with over 700 loops that are royalty free to use for any production you make in Soundation Studio. They are divided into 3 folders based on genre and sub-folders based on tempo.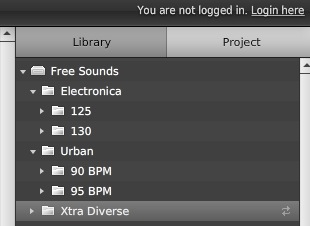 To listen to the loops in the Library, you can double click on the loop or hit the speaker icon on the lower right corner. If you want to loop a preview file to hear it repetitively, click the Loop box in the middle bottom of the loop library view. To hear any preview loop just by clicking on it, check the Auto Preview box in the bottom right of the loop library view.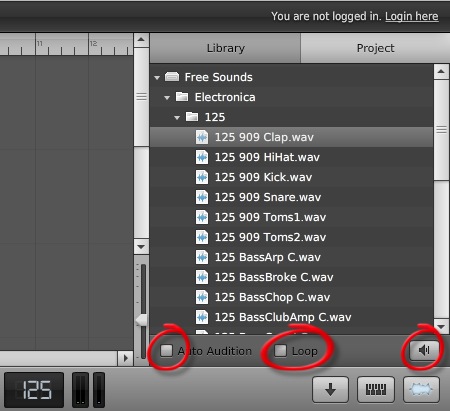 Once you found a loop you like drag it into the sequencer to a specific place and track.

The preview file is an .mp3 file, but the file dragged into the sequencer is a high quality .wav file and takes a few seconds to load.
Once you drag a file into the sequencer, you can click on the Project header on top on the loop library view, and see the loop in the Project view, so you can keep track of the loops you are using in your current production.
Fast Facts
The first loop you drag into the sequencer sets the tempo.

If you select a loop that has a different tempo (bpm), after it loads it asked if you would like to time stretch the loop to fit the current tempo. In this example we took a beat from the 130 bpm folder and dragged it into a song that is in 125 bpm.

Audio Clips from the Library can only be dragged into Grey Audio Channels not Blue Instrument Channels.

MIDI files from the Library can only be dragged onto Blue Instrument Channels not Grey Audio Channels.

Please note that you can also import midi files from your computer.