How-to: Use My Files
With Soundation Chrome Studio you can manage your My Files folder from directly within the studio. If you use any of our paid accounts you will have access to use this folder to upload and manage your own audio and MIDI files.
All actions for your My Files folder are available with a right-click on your computer mouse or trackpad. Right click to create new folders and to delete or rename things. Drag and drop audio and MIDI from your computer to your My Files folders as well as within them to move files and folders.
Supported audio formats: MP3 or WAV files at 44.1 kHz, 16 and 24 bit.
Step-by-step
You will find your My Files folder in the studio Library. Click the audio waveform button in the lower right corner of the studio to open or close the Library.

Your My Files folder will give you information on your total storage amount and current use. The folder will automatically update your usage when you make any changes. If needed you can manually reload your storage by hovering over the My Files folder and clicking the reload icon to the far right.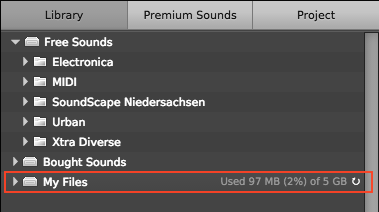 Left click on the folder to open it. The 'recordings' folder will contain any audio you have previously recorded. The 'uploads' folder will contain any audio that was imported and saved to a specific song. Right click on the My Files folder to create new folders within it.

When you create a new folder you can give it a name. You can also change the name later.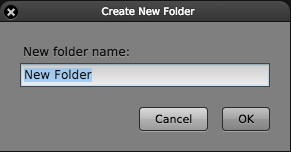 Right click your new folder to Delete or Rename it. You can also create a new folder within it to build a folder structure that suits you.

To upload audio or MIDI files to a folder simply select the files you want on your computer and drag and drop them to the folder.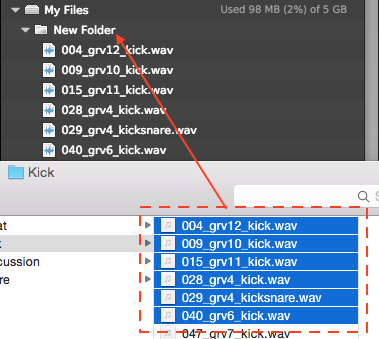 Right click any file to Delete or Rename it.

Within your My Files folder you can also move any file or folder to another folder simply by dragging it to where you want it. You will always be prompted to confirm when you move or delete a file. If you are moving, deleting or renaming a file that has been used in a saved song it will no longer be able to load in that song.