What does the Soundation Hangout App do? It makes real time music collaboration with video possible through Google's Hangout service! Music making just got social!
To use Hangouts you will need a Google+ (G+) account. If you have a gmail account you can add G+ easily when you log in. If you do not have a gmail account go to plus.google.com to get your Google account and get started with G+ (it's like facebook, only different).
Launch Soundation Hangout through the Hangouts link on Soundation.com. It will load up Soundation automatically. When/if asked, allow Hangouts access.

Invite friends you want to collborate with (they will also need a G+ account). You can either start on a song from scratch or you can load a song saved in your account and let your friends join in on the fun! Make sure your friends join after you have loaded the song.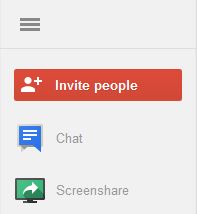 If you're invited to join a hangout click




You need to click the Soundation logo in the left hand menu to launch the studio.


Soundation Hangouts will work just like the regular Soundation. Saving works like normal and everyone in a hangout can save the song to their own accounts. The only exception is that Undo is currently not available.
Users might have access to different content (premium/power accounts or bought products). This kind of content will only load for those who have it. For example, premium soundsets will not load for 'free users'. Make sure to use files that are already accessible for your friends.
Notice the new Talkback button in Soundations lower left corner.



This overrides the Hangouts microphone button. The advantage of the Talkback button is that you will only be heard when you press it and keep background noise out when you're not using it. To use the 'Talkback' function press the 'B'-key on your keyboard. You can always use the Hangouts microphone button if you want to. Just turn it on/off in the top right corner.
Using either the Talkback button or the Hangouts microphone button lowers the volume of the song so it's easier to talk
It is highly recommended to use headphones so that the microphone does not pick up any sound from the speakers which can result in wicked feedback!
Another new button is 'reload'. Use it if Soundation does not load your friends song correctly or if your friend loads another song or an empty one to work on.



Record Audio
Notice: When recording audio in Chrome you might have to allow recording not only inside the studio, but also in any pop up from Chrome asking for permission to use your mic.
Recording audio in Soundation Hangouts works the same as before up until your audio is recorded. You will notice the recorded clip is greyed out in your arrangement.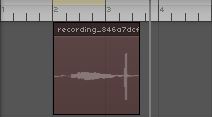 This is because at this point the recording is only visable and heard by you. This gives you the ability to edit the recording or redo it until you are happy with it before sharing it.
When you are finished with your recording you will need to sync it to the hangout for everyone to be able to see, hear and edit it. Do this under the 'Project' tab in your library view. Any unsynced clips will be marked with red text and next to it a button to 'sync with hangout'.



Any recordings or audio clips not currently used in the song will not be saved.