What is?
What is a .sng file?
It is a data file used to save the songs and arrangements in Soundation Studio. When you save a song or work in progress in Soundation,  you save it as a .sng file, a data file which contains all the songs information. This is Soundation's proprietary format for saving. You cannot play a .sng file back in a media player, it is only to store information.
What is Library?
The library contains all the loops that can dragged in to the sequencer. The Free Sounds folders are included for all Soundation users. If you buy anything from the Sound Shop all your buys we go into an automatically created  Bought Sounds folder  and if you buy an AudioLocker a My Files  folder will appear so you can store and import your own loops and sounds.
What is Project
The project contains the loops that are currently in the sequencer. If you are not sure which loops you are using check the project header next to library.

What is AudioLocker
AudioLocker is a desktop application that allows you to store your files in your own account in the Soundation cloud, as well as connect to Soundation Studio. With an AudioLocker you can import your own loop and sample libraries directly into Soundation Studio.
AudioLocker requires that Adobe Air is installed on your computer. It is free and can be downloaded at http://get.adobe.com/air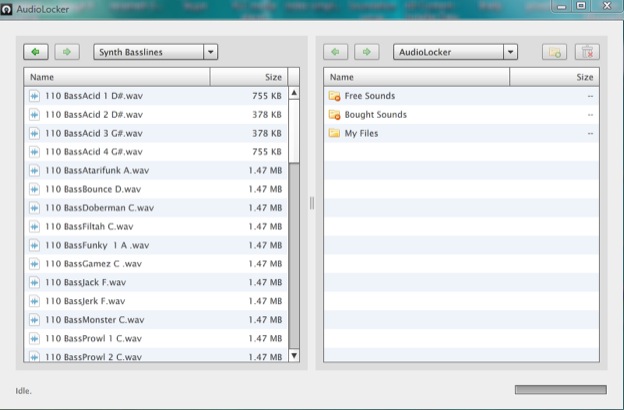 What is My Files
"My Files" appears in the "Library pane"  after you buy an AudioLocker and are logged in. All wav files uploaded in to the My Files AudioLocker folder appears in the My Files library folder.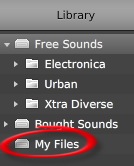 What is Settings
Settings is where you can change default behavior of Soundation Studio, e.g. having the Library not visible upon launching or setting the Buffer size.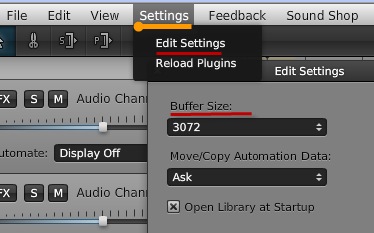 What is Buffer Size
Buffer Size is the size of the chunks of audio data Soundation Studio generates before it sends it out to your speakers or headphones. It does this to avoid pops and clicks. But the buffer size is a balance between latency and stability. Generally, the more powerful computer you have the lower buffer size can be used without undesirable audio artifacts. If you increase the buffer size, Soundation will run smoother on a slow computer, but it will also increase the latency, which can be bad if you e.g. tweak an effect knob while playing back your song or are using the virtual keyboard.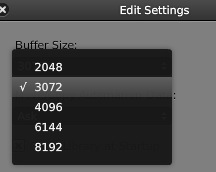 What is an Audio Channel
Each audio channel is a separate track of streaming audio. In Soundation, the Audio Channels are grey and are used for the loops or sound clips from the Library. Each audio channel contains volume, pan and FX controls.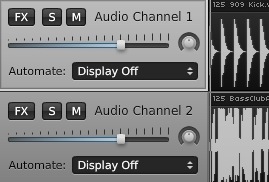 FX - Brings up the effects panel.
S - Solos the channel. If one or more channels are soloed Sundation only play back those channels.
M - Mutes the channel which makes silent.
There is also a volume slider, a pan knob and an automation menu.
What is Automation
Automation is when a parameter change over time automatically while you play back your song. You can automate any channel parameter including effect and instrument parameters. Automation is very useful if you want e.g. make filter sweep or make the wet signal of a delay effect louder at some locations in your song.
To automate a parameter, select it in the "automate menu" and then click to create points on top of the channel. You will see how lines appear connecting these points. This represents how the specified parameter value will mix between each point.

What is an Instrument Channel
An instrument channel is a channel you can assign virtual instruments to. Instrument channels are light blue.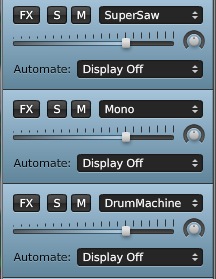 What is a Virtual Instrument
Soundation Studio's virtual instruments are units that generate audio in real time from notes. Assign virtual instruments to instrument channels by selecting one in the menu to the right. Soundation Studio currently includes the synthesizers Mono, SuperSaw, Simple, the DrumMachine, SAM-1(a sample player) and Noiser(a white noise generator).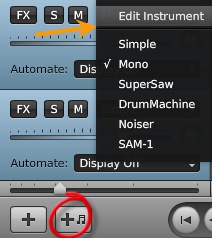 Double click on an instrument channel in the arrange view to create a note clip. Note clips are regions that contains notes for the selected instrument on that channel.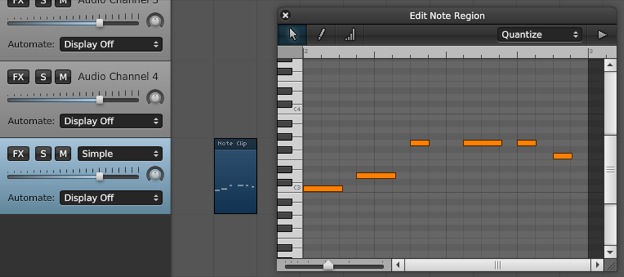 What is SAM-1
SAM-1 is Soundation Studio's Sample Player. It can be opened by using a blue Instrument channel.

What is a Sound Set
A Sound Set is a group of loops and sounds that work together, grouped in a specific genre, with the same tempo and tonal key for easy drag and drop use in Soundation Studio. The purpose of Sound Sets is to give users a focused group of samples of high quality at low cost. Soundation Sound Shop Sound Sets, although optimized for Soundation Studio, can be used in any sequencer that reads standard wav files.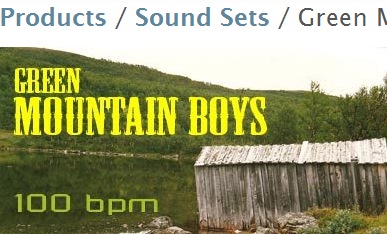 What is BPM
Tempo - number of beats per minute.
What is Genre
Music style. E.g. house, jazz, rock or funk.

What is Pan
Panning lets you control balance between left and right speaker.