How-to: Mixdown / Export your song to WAV
When you think your song is ready and you would like to export it to your computer, go to the File menu and click on "Export .wav File".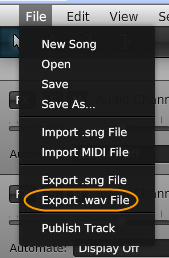 You will be prompted to Save or Cancel

Click Save and Soundation Studio will then start mixing down your song to a single .wav file. Once that is finished a pop up appears asking you where you want to save it on your computer. The download is a 16bit/44100Hz pcm, cd quality, .wav file.

If you click on "Export .sng File" you will download a data file of the song´s arrangement in Soundation. The .sng file is very small and can be sent to another Soundation user to listen to or work on an arrangement of your song.